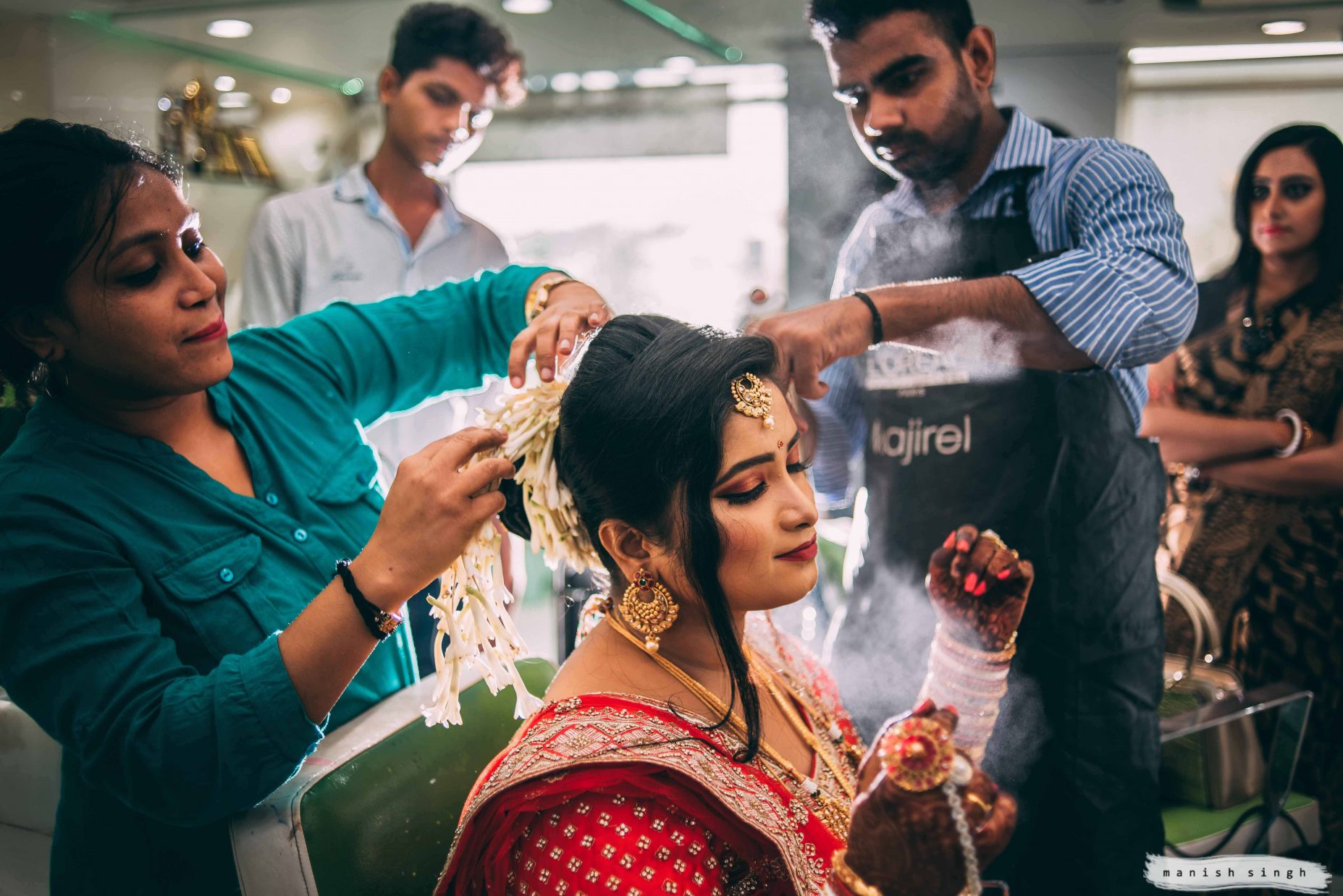 Its been over six years now when photography chose me! and I'll always be grateful for that. I started out shooting almost everything I got my hands on. Then I found street photography to be kind of pleasing to me. The moments, people, different faces attracted me a lot. Gradually I came to know it was my love for the people , to interact with them and capture their story.It was one of my friends wedding which I first shot and and was really satisfied to find everything I loved in one event. There are multiple reasons that made me fall in love with wedding photography. The romance, the laughter, the people celebrating, the heightened emotions, the details small and big.
However, here I'm going to mention a few important ones:
Being Artistic and Creative:
Art itself is very personal in nature. I believe it comes from the experiences you have and the medium you find to express them. For me its the images I create.Every color tone , pose , lighting , editing technique , expression I choose to capture has something to do with me personally  or to my sub-conscious mind , that;s what I believe. There is always something remarkable about being artistic. I become creative while I'm capturing pictures, while I edit them, while I design albums, and while I push my boundaries to learn new skills. As a wedding photographer, I believe that ingenuity is something we all are born with. We all start our lives being curious and creative. Photography is something that allows me to become creative every day and express myself.
Seizing Priceless Moments:
I have been a wedding photographer for over 5 years and have already photographed over 50 wedding ceremonies. My passion for wedding photography continues to rise over the years. My style is natural and candid. I have polished my skills to put myself in such a position, which seizes that moment in the best possible way. Its about capturing the moments as real as possible.
Being an Eyewitness of Something Beautiful:
To be a part of somebody's most vital day is really rewarding and uplifting.Weddings are wonderful events and I am there for capturing the celebration and union of a couple. They have hired me, nobody else to seize the moments of their weddings. It is quite rewarding for me to deliver those pictures to my clients knowing that they would see them over and over again and relive one of the best days in their entire lives.
High-Pressure Circumstances and still Offering Exquisite Pictures:
Wedding photography could be distressing. At times, you need to deal with unexpected situations. I would define myself as a friendly and calm person that is important in being a professional wedding photographer. There are several moments where you need to be quick – imagine quick, change the entire setting quickly, move quick, speak quick. I never get nervous and do everything in a friendly and polite manner.
Learning the Latest Photography Skills:
When you give your best to do something apart from what you already have mastered, then you grow, flourish in the best possible manner. This is one of the philosophies that I follow whenever it comes to learning photography. Even though you leave school, don't stop learning something new. This helps you to become the best version of yourself. I love to push myself into unknown areas of photography as this helps to learn something great.
Knowing, Interacting with New People:
Maybe you will find it a bit strange. But yes, I just love to have a conversation with new people and listen to them. I strongly believe that everyone has something to say that will guide you in the right direction and you can also learn a load about the unexplored part of life, photography, etc. Life is nothing but a voyage and we all meet new people during this entire journey. Wedding ceremonies are full of interesting and fantastic people. And this is the place where I can find some wisdom while talking to new people.
Hope you've now understood why and how much I love wedding photography.
Tagged as: